Cross browser designs
Our way of development and testing facilities makes our customer sites run under all the famour browsers available in the market upto date.
About Natty Pangolin
Natty Pangolin's primary focus is providing professional, cost effective road maps and solutions for our clients mobile projects. Our global clients use our services to ensure that they receive the best mobile apps solutions. Our team of developers and managers are dedicated to the success of your project.
Natty Pangolin is specialized in the design and development of mobile & customized software & online solution for companies who wants an effective reach in the Digital Space. As a dynamic agency, Natty Pangolin invests quality time & energy to generate creative ideas and implement plans according to our client's needs. .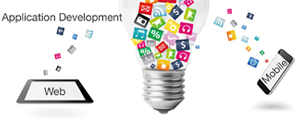 NATTY PANGOLIN has an unique method and strategy towards the upcoming and existing technologies. We indeed differ from other companies with our unique strategical method carried through out the customer's business growth.

Our Mission to provide a smart phone technologies solution & mobile application development for esteemed clients to improve their organizational performance.

"To become a globally trusted technology solutions provider and to be at the forefront of innovation in the technology space.".
The design process
Design Natty's Design Methods

Design is the process by which an agent creates a specification of a software artifact, intended to accomplish goals, using a set of primitive components and subject to constraints. Software design may refer to either "all the activities involved in conceptualizing, framing, implementing, commissioning, and ultimately modifying complex systems".

Development Development Philosophy.

Natty's software development may include research, new development, prototyping, modification, reuse, re-engineering, maintenance, or any other activities that result in software products. Natty's development process carried out with the customer or user base as the centric manufacturing process.

Product Natty's Product.

Natty's computing allows consumers and businesses to use applications without installation and access their personal files at any computer with internet access. Natty Pangolin's technology allows for much more efficient computing by centralizing data storage, processing and bandwidth. .